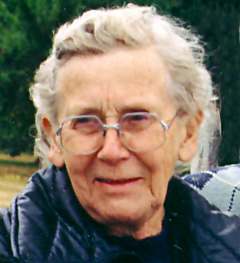 Agnes C. Farmer "Grandma Aggie"
Pub Date: 9/9/98
Agnes C. Farmer, 81, died September 6, 1998 in Tacoma, Washington, had been a member of Sacred Heart Catholic Church since 1945. Agnes will be remembered as a person of unconditional love who was always there to lend a hand, give love and resources to anyone needing help. She was known for her ability to complete a job while everyone else was still thinking about it. She enjoyed fishing, children, doing handy work and would take in any stray animal needing a home. She taught us the value of the one-half price sale on the first Tuesday of the third week of the fourth month. She will always be known as a recycler of thrift stores and as the original Tomboy. She is survived by her husband, Robert D. Farmer; children, Robert F. (Carol) Farmer, Marilyn Etherington, Carole (James) Gillespie, John Farmer, Perry (Cathy) Farmer; sister, Mary Connors; brother, John Haas; 11 grandchildren; 4 great-grandchildren and many adopted children, grandchildren and great-grandchildren. Funeral Mass will be celebrated Friday, September 11, 1998, 10:00 a.m. at Sacred Heart Catholic Church. Rosary will be recited Thursday, September 10, 1998, 7:00 p.m. at the 1002 South Yakima Avenue Chapel. Viewing will be at the funeral home all day Thursday. Interment at Calvary Cemetery.
You are invited to visit the memorial web site for Agnes at
http://oc.itgo.com/agnes/index.htm
The family suggests memorials may be made in her memory to the Humane Society. Arrangements by Gaffney Cassedy Allen and Buckley King Funeral Home.

"We love you mother. Sprout your wings and fly away."
Mother found her way to heaven by the light of a full moon.