The Killer Whales of Dyes Inlet
One day in October 1997, a pod of killer whales, known to scientists as the L-25 subpod, came to dine in Dyes Inlet located between Bremerton, Silverdale and Tracyton Washington. After they had their fill of chum salmon, on November 19th, they were seen heading for the greater Puget Sound. On November 13th, I took these pictures from the Tracyton boat launch with a 25 year old Nikon 35 mm camera and a 150 mm zoom lens. The whales were never closer then 500 yds. These photos have been very heavily cropped from snap shot prints.
The killer whale story has great coverage in the Sun Newspaper.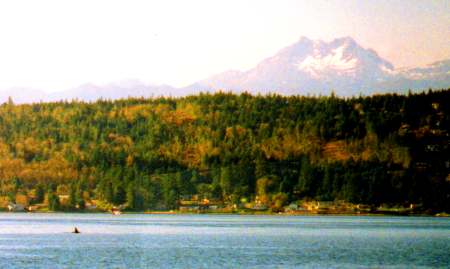 A lone Orca with The Brothers Peak of the Olympic Mts. in the background.
---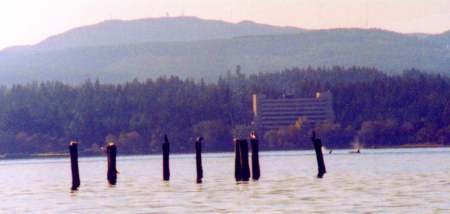 Two whales blowing on the surface with the Naval hospital in the background. They are just to the right of the pilings.
---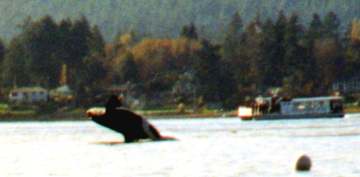 This whale jumped 3 times in a row about 500 yrs from the beach. I got 2 of the 3 jumps.
---
Orcas from Vancouver Island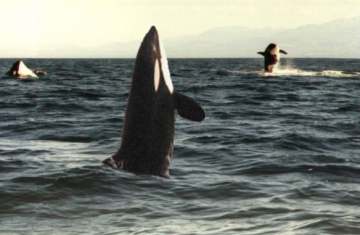 Hi Bob,
I am pretty much a lurker (and occasional poster) on BMT Talk and I have followed your postings on the killer whales in Dyes Inlet. I live in Victoria BC and we get a lot of whales around the island. I am sending you a fairly good shot of orcas breaching that I thought you might want to add to your site. I know they aren't in Dyes, but it is a nice shot!
Hugs,
Shelley
---
I welcome your comments and suggestions.
Bob Farmer - robert.farmer@comcast.net
Last Updated on 11/01/06